Industrial Valve Repair to OEM Standards
Get precision industrial valve repair from our experts at Southern Valve Service. We provide superior quality repair services at cost-effective pricing to reduce total costs of ownership and downtime.
We have a fine-tuned repair process that allows us to provide end users throughout the nation with fast turnaround times. Our qualified technicians begin by completing a thorough inspection and documentation process for every valve that arrives at our shop to ensure proper condition and lifecycle tracking through our proprietary software. Using technologically advanced programs, we identify the root cause of failure and establish the severe service valve repair and modification tasks needed to return the valve to service and avoid future issues.
Once repairs are complete, valves go through a comprehensive testing process to ensure the valve meets application specifications as well as applicable valve standards. Our industrial valve repair processes are designed around API recommended practices 621, with a meticulous digital traveler through our exclusive program.
Our digital data for your valve allows us to track not only condition and repairs, but also provide preventive maintenance recommendations to prevent future failures and disruptions. We help end users reduce total costs throughout the service life of the valve while maintaining safety and risk mitigation.
Contact us now to request repairs for your critical valves.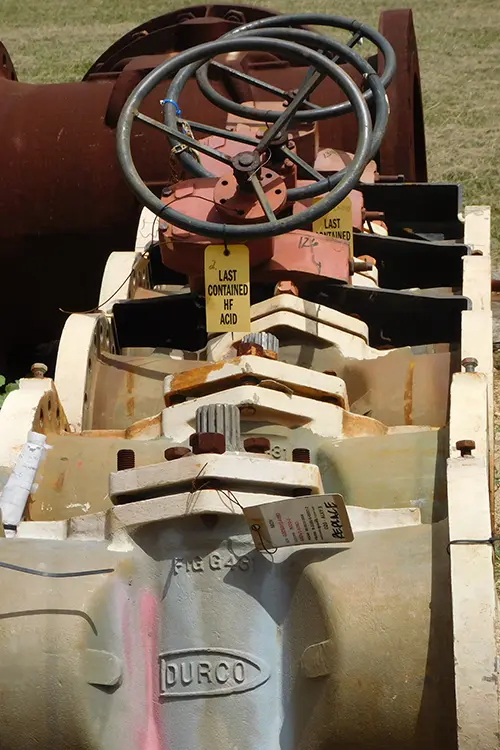 Our systems and processes allow us to provide:
Extensive Quality Control
Fast turnaround
Reduced Total Cost of Ownership
Decreased Downtime
Like New Severe Service Valve Repairs
OEM Certified Repairs from Top Manufacturers
Severe Service Valve Repair for Any Valve
Industrial valve repairs take place in our machining shops located along the Gulf Coast to provide excellent quality control for every valve we service. We offer critical valve service for every valve type, size, condition, and application.
Our team provides industrial valve repair services for practically any valve. We work with manual and automated block valves for a variety of industries and applications. Our class A repairs comply with all applicable standards, including those set forth by API, ISO, ANSI, and AMPP (formerly NACE).
We provide industrial valve repairs for valves involved in controlling and isolating aggressive and hazardous media, including hydrofluoric acid, chlorine, oxygen, and phosgene. Our large collection of historical data on valves across industries allow us to provide proven solutions for valve repairs, including exotic valve materials and designs. Some of the severe service valves we repair include:
We are OEM certified for top industrial valve manufacturers for trusted service for end users. Our team also follows OEM compliant services for other valve manufacturers to ensure you receive reliable industrial valve repairs. Our experienced and trained technicians have the skills and expertise to provide repairs for even out of production valves in severe service applications.
Contact us now to get a quote and request service for your critical valves.